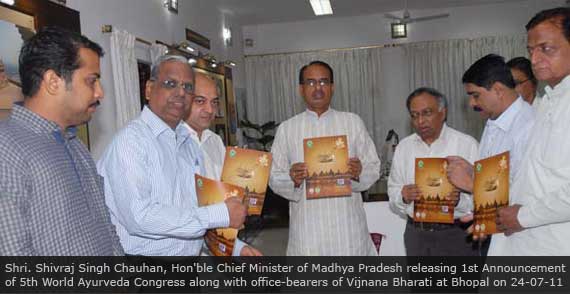 The 5th edition of the World Ayurveda Congress, scheduled to be held at Bhopal from 7 to 10 December 2012 is expected to consolidate the momentum of this forum gained so far and boost up the popularity of Ayurveda across the globe. This world summit will bring together diverse stakeholders of Ayurveda on a common, meaningful and popular platform thereby propagating the practice, science and trade of our ancient indigenous science. Having established itself as a vital platform for Ayurveda, this edition of WAC will strive towards achieving the following goals:-
To facilitate acceptance and recognition for Ayurveda as a complete healthcare system adoptable in all countries across the world.
To create appropriate platform for scientific basing of Ayurveda along with suitable infrastructure to popularize the outcomes.
To make Ayurveda an integral part of health-care management.
To create interest groups 30 countries including those in European Union, Association of South-East Asian Nations, the United Arab Emirates and North America.
To formulate international peer-view panels in basic and medical sciences for credible guidance and validation of research.
To initiate the creation of a network of medicinal institutions, laboratories and universities across the world aiding joint research and creating a database of management efficacy of Ayurveda.
To facilitate Shishya to meet his Guru and for Business to explore opportunity with Business and the first ever attempt for Government to meet Government with a single focus – Ayurveda.
Look at options for more meaningful role for Ayurveda in Public Health at State and Central Government levels.
Showcase technical advancement by way of Poster Sessions, record number of Papers being presented and launch on-line database for essential Ayurveda references.
AROGYA Expo will of course bring Consumer in close interaction with Physicians, Industry and a bank of knowledge on the best options in health care through Ayurveda.
Traditional Healers in India have a challenge in documenting their wisdom of millennia, essential discussion for a firm Policy & Action will make this a landmark symposium.
Bio Resource security and availability - whether medicinal plants in sustainable non-GMO form and with an Organic tag or minerals, metals and animal bi-products, will have a focus in seminar.
The 5th edition of the Congress invites all interested delegates to its academic and business sessions and associate events. Vijnana Bharati will be going through the paces of constituting the National Steering Committee and the State Working Committee. These bodies will have the participation from – Government, Research Institutions, Ayurvedic Physicians, Scholars, Industry, Cultivators, NGO's and Students to make 5th World Ayurveda Congress & Arogya Expo, 2012, a stepping stone to a glorious phase in realizing Ayurveda potential.